BOOK CATALOG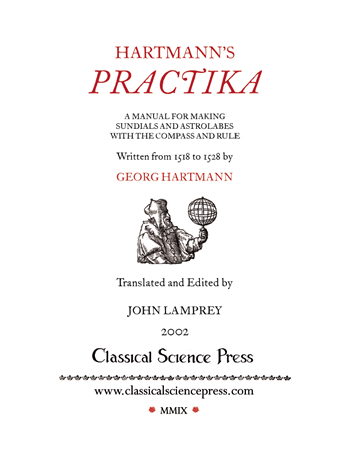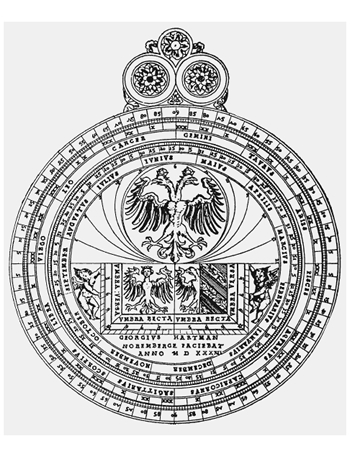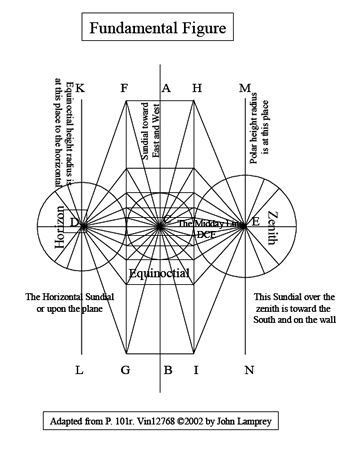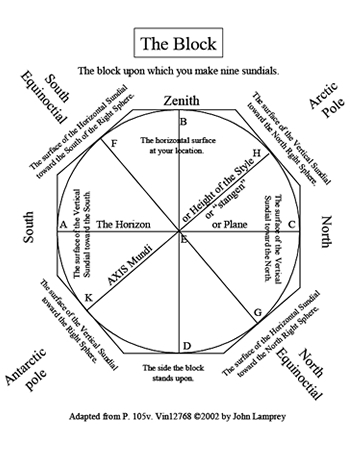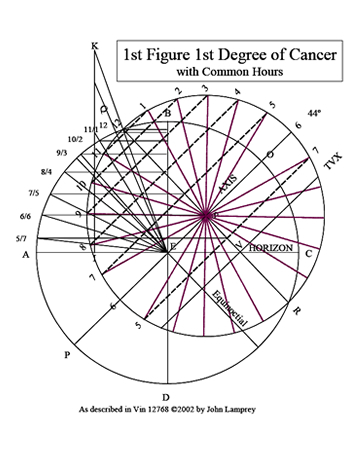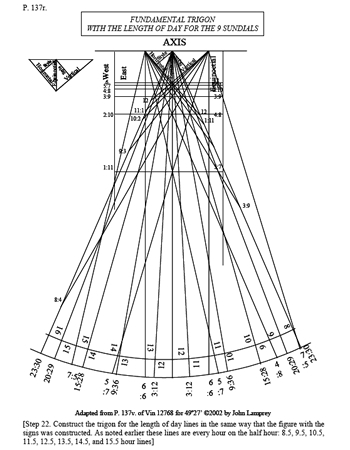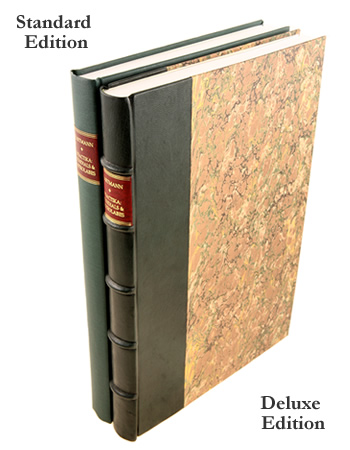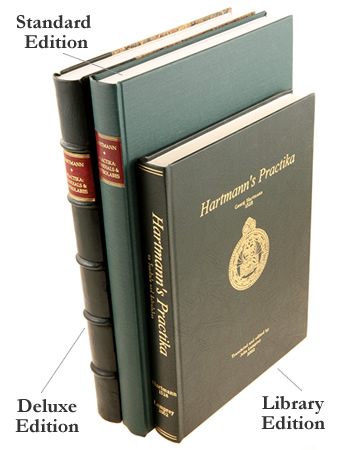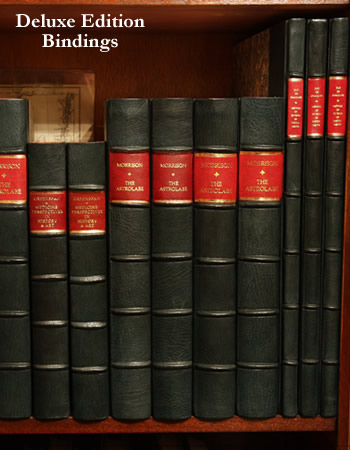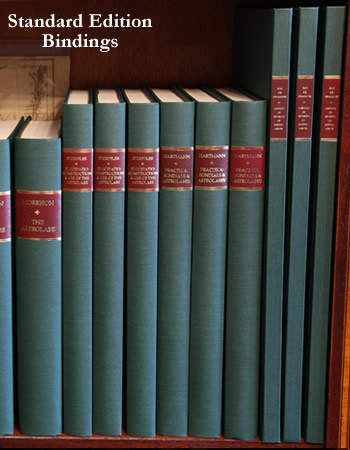 Hartmann's Practika
Translated and edited by John Lamprey, 2002

Hard cover, 310 pp.
Library Edition Book Size - 8 5/8" x 11"
Standard Edition Book Size - 9 3/4" x 13 3/4"
Deluxe Edition Book Size - 9 3/4" x 13 3/4"



Georg Hartmann lived from 1489 to 1564. As a young man he studied both mathematics and theology, becoming a Lutheran churchman. For over forty years he designed and constructed the astrolabes, armillary spheres, sundials, globes and quadrants that are now the pride of some of the world's most prestigious museums. Hartmann must have felt the need to record exactly how he designed this instruments, for in the summers of 1518 and 1526-1528 he scribbled down in Low German a rough draft (illustrated with even rougher sketches) of his mathematical techniques. No publisher ever considered it, for to refine this raw material into a logical and understandable treatise would necessitate enormous effort and dedication. Hartmann is therefore truly fortunate that, after nearly five centuries, John Lamprey has undertaken this task (including a translation into English) as a labor of love. The work took him six years, but the result - concisely entitled Hartmann's Practika - is a credit to both author and editor/translator. Now we can discover at first hand how this master craftsman laid out his beautiful instruments.

Lamprey has rearranged and edited Hartmann's draft into seven chapters ("books") according to the type of instrument described.

Book 1 - Block Sundial
Book 2 - Diptych Dial
Book 3 - Shepard's Dial
Book 4 - Lines of Declination
Book 5 - Hemispherium and Chalice Dial
Book 6 - Nuremberg Portable Dial
Book 7 - Designing the Astrolabe

Book review courtesy of Allan Mills, 2003
---
Praise for Hartmann's Practika:
"You should feel very proud of your accomplishment.  It was a Herculean undertaking, one that not only will make important manuscript material accessible to a wide audience, but one for which you will be remembered."
- Will Andrews, September 6, 2002
Will is the past curator of Harvard's Historical Scientific Instrument collection and editor of The Quest for Longitude.

"The kind of work which you have done on Hartmann is utterly fundamental in the history of science, being concerned with bringing lost manuscripts to light, and making them available in modern scholarly translations. . .Congratulations once again on what is clearly a very significant book on dialing."
- Professor Allan Chapman at Oxford, July 15, 2002

"The book is convincing in its quality of print, the paper, the bookbinding, and the drawings together with the presentation of your translation and text whose size of the work and ideas [show that] you have spent years researching."
- Hr Dr. Eva Irblichof the Austrian National Library (home of Hartmann's Vin 12768 MS's), July 12, 2002

---
Classical Science Press also offers a Deluxe Collector's Edition of this volume. The edition is quarter-bound in goatskin with raised bands, leather-embossed spine label, and marbled boards.