BOOK CATALOG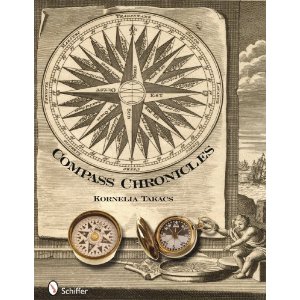 Compass Chronicles
by Kornelia Takacs
$50
First edition, hardcover, 176 pages
Publisher: Schiffer Publishing, Ltd.
Publish date: February 28, 2010
Illustrations: 507 color photos, index
Size: 8 1/2" x 11"
ISBN: 9780764333965"




This beautifully designed, large format, hard cover book is a guide through the wide range of antique pocket compasses, with colorful illustrations and detailed descriptions throughout. Various other types of magnetic compasses are covered, such as escape, wrist, fob compasses, and even sundials to name only a few. The majority of compasses described in this book were manufactured between the mid-1800s and early 1900s. Examples reach back to the late 1700s. (WWI and WWII era models are also covered in detail.)

It is hoped that this book will enjoyed by readers who find these elusive instruments interesting and feel compelled to find out more as well as by serious collectors who seek detailed information about specific models.

150 leather bound, hard cover copies were printed of Compass Chronicles as its limited edition version. The front cover displays an embossed, silver-metallic compass rose, the title, and the author's name. Each copy is signed, dated and numbered 1 through 150 along with a message from the author.